In Can Tho city, the Ministry of Construction and the Ministry of Industry and Trade have just co-organized a scientific conference: "Using ash, slag, and gypsum from thermal power plants as raw materials for the production of building materials in the Dong Nai region. by the Mekong River".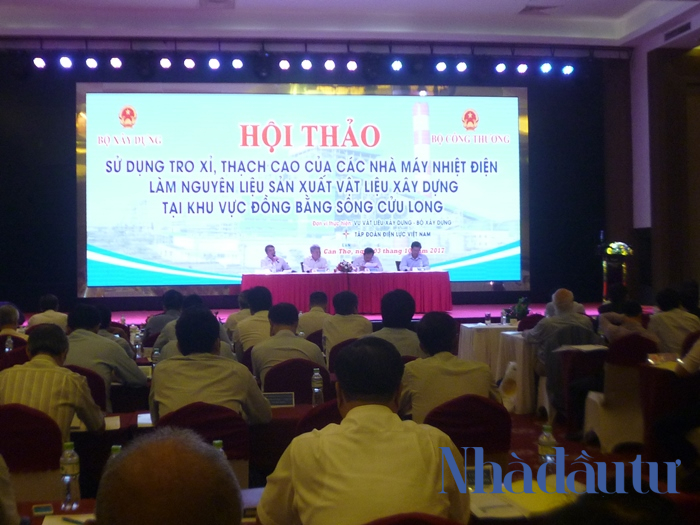 Solving the problem of handling ash and slag
At the workshop, Mr. Pham Van Bac – Director of the Department of Building Materials (Ministry of Construction) – said that there are currently 21 coal-fired thermal power plants in operation nationwide. It is expected that if thermal power plants are invested according to the planning and the amount of ash and slag discharged is not treated, it will be 61 million tons by 2018, 109 million tons by 2020, and 422 million tons by 2030. ton. 
The Mekong Delta region currently has 3 thermal power clusters including Duyen Hai thermal power plant, Long Phu thermal power plant, and Song Hau thermal power plant. The installed capacity is 1,445 MW, annually discharging about 1.8 million tons of ash and slag. In the near future, Duyen Hai III thermal power plant will expand its operations, bringing the total generating capacity to 5,505MW, consuming about 16.52 million tons of coal per year and emitting 4.13 million tons of ash, slag, and jelly. high.
It is expected that by 2020 there will be more Long Phu I thermal power plants (1,2); Hau River (1,2). From 2020 to 2030, there will be 9 more factories operating, bringing the total power generation capacity to 18,225MW, consuming about 54.68 million tons of coal each year and emitting about 13.67 million tons of ash and slag. plaster. The amount of ash and slag will create challenges for the country when it has to use a huge area of ​​land for storage and many other environmental pressures, the risk of factories having to stop production due to insufficient storage. is a reality. If there is no solution to remove, promote treatment, and use, the total accumulation of ash, slag, and gypsum on the storage yards of thermal power plants will be very large. Therefore, the promotion of processing and use of ash, slag, and gypsum is an urgent requirement.
According to Mr. Bac, over the past 6 years, reducing the production of bricks from terracotta to unburnt bricks, 55/63 provinces and cities have saved 10 million m3 of land, equivalent to 70 hectares of land, with a depth of more than 2m. If actively using ash and slag to produce construction materials, in addition to saving agricultural land resources, it will also increase employment.
Before the difficult problem, Mr. Truong Quang Hoai Nam – Vice Chairman of the City People's Committee. Can Tho, expressed concern. According to Mr. Nam, the Mekong Delta has only operated a factory since 2016 and a second factory in the first quarter of this year, each year discharging 1.8 million tons of ash and slag. By 2020 the amount of ash and slag will be about 4.13 million tons and in 2030, when all 9 plants are in operation, it will emit about 13.6 million tons.
"How to handle this huge amount of waste, if not treated, surely the Mekong Delta and right next to the Hau River will have hills, mountains of ash, and slag? How will technology be used in the future? How to use and manage ash and slag without affecting the environment, affecting the lives of people in the Mekong Delta?", Mr. Nam raised questions and said that a clear and transparent answer is needed because it is related to the environment.
Using ash and slag for leveling, production, and construction
Mr. Le Ngoc Thanh, Department of Science, Technology, and Environment, Ministry of Construction said that the slow use of ash and slag as materials for leveling, making traffic surfaces, reinforcing foundations of construction and production works. The production of materials in recent times is due to the lack of standards and regulations. But up to now, the regulations and standards related to ash and slag that thermoelectricity have been fully available. According to the standards and regulations that have been issued and are about to be published in November, the building materials industry will help solve the consumption of ash and slag to more than 30%, the rest is for leveling, substitute for natural sand.
Mr. Le Hong Tinh – Deputy Chairman of the Committee on Science, Technology, and Environment of the National Assembly – said that in the context of the temporary suspension of nuclear power, hydropower is no longer exploited, renewable energy, and clean energy cannot be exploited. Not everywhere can do it, the choice of coal-fired power plants, to meet the needs of economic growth and social development, because if GDP growth is more than 7%, then the growth of the electricity industry must be more than 10%. By 2030, the power generation capacity of coal-fired power plants, accounting for 53% of the country's total electricity generation capacity, is "no other way", so organizing a workshop to discuss solutions to handling and using ash, slag, gypsum in the Mekong Delta is very important. 
Mr. Tinh added that in the North, people are used to using ash and slag (coal slag) to make construction materials, while in the Mekong Delta, besides Duyen Hai thermal power plant (Tra Vinh), there are no factories in operation yet. ash and slag is small (about 2 million tons). In the coming time, when other thermal power plants such as Long Phu 1 (Soc Trang), Song Hau (Hau Giang)… come into operation together, they will emit more than 4 million tons of ash, so if there is a delay in treatment, there will be congestion. and pollute the environment. According to Mr. Tinh, the current leveling problem is a serious shortage of sand and the Ministry of Construction is developing standards and regulations related to leveling with ash and slag to replace natural sand.
"I went to Tra Vinh and saw that there was a shortage of sand for all kinds of construction works, but using (ash, slag) instead, what are the standards and regulations, the Ministry of Transport does not allow it. Previously, there was a related workshop, there was a separate report in Japan that 95% of ash and slag from thermal power plants were used for leveling, building materials, and unburnt bricks. So what about Vietnam?", Mr. Tinh emphasized.
"If there is clarity about standards, regulations, put in leveling, building materials, unburnt bricks, then there is no problem. In the Mekong Delta, the demand for leveling in both rural and urban areas is very large, many important traffic works in the region are also lacking millions of m3 of sand, do not know where to exploit to meet "- Mr. Tinh added.
Currently, the treatment of ash and slag (fly ash) for construction applications still has many obstacles. Mr. Chau Van Thanh, Deputy Director of Hoang Son Ply Ash and Cement Co., Ltd., said that the company is a leading unit in the Mekong Delta region, investing in a fly ash collection line with German technology with a capacity of 900.00 tons/year. , located in Long Hau Industrial Park, aims to provide raw materials for cement factories and concrete batching plants in the southern provinces. However, the users have not publicized the use of fly ash in the mixing of concrete and cement. The legal corridor to use fly ash is not clear and has not been widely disseminated. There is a lack of mechanisms and policies to encourage organizations and individuals to invest in factories producing unburnt bricks from ash and slag and fly ash processing plants. Besides, localities still consider ash and fly ash as industrial waste.